Alloy Wheel Recycling
If you are replacing the alloy wheels on your vehicle or your vehicle has reached the end of its working life and due to be scrapped, the alloy wheels can be recycled.
At ASM Metal Recycling, alloy wheels are one of our staple components from end-of-life vehicles (ELVs) that we recycle. Most modern-day vehicles have alloy wheels and at ASM we recycle alloys of all sizes, styles, and weights. We use our experience and knowledge of the scrap metal market to get you a good price on your alloys.
Click here to sell
your alloy wheels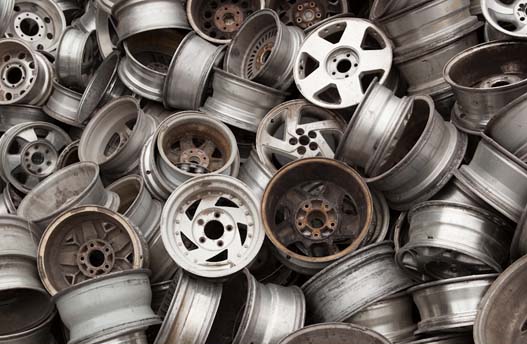 What are alloy wheels?
Alloy wheels were designed to give motorists better handling at higher speeds. High-performance vehicles require lightweight alloys to improve responsiveness at the wheel and improve safety levels for drivers and other road users.
The combination of aluminium and magnesium creates alloy wheels that are not only safer, but more aesthetically pleasing. The blend of these two metals also offers greater durability and resistance to corrosion over time.
Why recycle your alloy wheels with ASM?
Aluminium comes from a raw mined ore called bauxite. It takes a lot of energy to extract pure aluminium from the ore, using high temperatures and energy-consuming mining operations. Recycling takes just 5% of the energy it does to get aluminium from bauxite. Alloy wheels contain a significant amount of aluminium, meaning it's important to consider recycling your alloy wheels.
ASM works to get you the best price possible
Scrap metal prices change on a daily basis, based on estimates per tonne, so it's best to get in touch with us to get the most accurate price for your alloys. We look at current supply and demand, the type and grade of alloys, plus we have been specialising in scrap metal recycling for over 55 years.
ASM take a green approach
We pride ourselves on the green approach. We're fully accredited with the ISO 14001 and ISO 9001 standards and are fully licensed by The Environment Agency. We are also an approved CHAS (Contractors Health and Safety Scheme) provider and all our sites are registered and 100% compliant with the Scrap Metal Dealers Act 2013.
ASM use the latest technology
Our recycling sites feature only the latest processing technology to improve the safety and efficiency of recycling alloy wheels and other scrap metals such as copper and brass.
How are alloy wheels recycled?
As the name suggests, alloy wheels are made of a combination of many different metals, not just aluminium and magnesium. With a plethora of different compounds used by various manufacturers and alloy wheel brands, recycling alloy wheels is by no means a simple process.
The process begins by having to separate each type of metal from contaminants, by cutting them down into smaller pieces first. The use of magnetic separation can separate any iron particles from the pieces. Chemicals are then used to discover additional metals present within the alloys, the most common of which are chromium and molybdenum.
Contact ASM Metal Recycling today
To get a fair, up-to-date price for your scrap alloy wheels, give ASM Metal Recycling a call today on 01296 33 77 11 or info at asm-recycling dot co dot uk
Find your local depot here, or check out our scrap metal collection services.
We also scrap vehicles and recycle tyres and other car parts.