Scrap Cable Recycling
How many spare or broken cables do you have lying around? Chances are, it's quite a few, especially if you're a business within an industry that frequently deals with different types of cabling. There are several industries that even benefit from custom cable manufacturing, such as the telecommunications and automotive sectors.
Cables can contain a number of different metals. Copper is the most common, but aluminium and steel are also frequently used. It can also depend on the environment in which they're used, due to rust or corrosion risks. Copper is typically the more expensive and most sought-after metal.
Those who deal with large quantities of unused or unwanted cabling may very well be sitting on a fortune. Instead of letting it take up much needed space in a room or warehouse, why not sell your cables to us? Our scrap cable prices are extremely competitive, and we also offer a scrap metal collection service (so you don't have to lift a finger).
Click here to sell
your scrap cable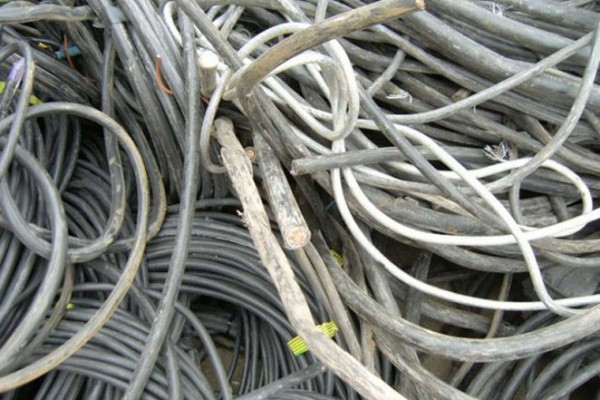 What types of cable can I recycle?
There are a range of different cable types out there, including (but by no means limited to): household cables, tinned copper cables, ACSR aluminium cables, lead armoured copper cables, data cables, coaxial cables, ribbon electric cables, shielded cables, twisted pair cables, fibre optic cables, network cables, patch cables, internet cables, power cables and a number of others. The best way to find out which cables you've got (as well as how much they might be able to earn) is to give us a call.
What is the recycling process?
The grades of cables are pre-shredded and then the shredded plastic and copper is processed and granulated a number of times. The metal and plastic content is then separated using a high-tech waterbed system. Any plastics we have are dealt with in a specialist plastic recycling centre, and the metals are recycled as standard at ASM.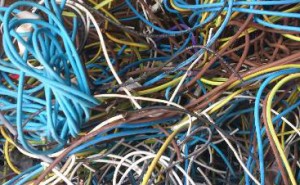 Why ASM Metal Recycling?
We're environmentally friendly.
We're fully accredited with both the ISO 14001 and the ISO 9001. We're also fully licensed by The Environment Agency. Our mission is to provide services which help to reduce fly tipping and encourage individuals and businesses to recycle.
We're fully certified.
We're both an approved CHAS (Contractors Health and Safety Scheme) provider and compliant with the Scrap Metal Dealers Act 2013. We have a wide range of relevant licences and accreditations, which you can view online.
We're cutting-edge.
Our scrap metal recycling centres use only the latest processing technology for both ferrous and non-ferrous metals. We're the best in the business and pride ourselves on continued innovation within the scrap metal industry.
Scrap cable prices you can't beat
Cable recycling is one of the most popular processes we carry out. If you're looking for the best scrap cable prices, you've come to the right place. At ASM Metal Recycling, we believe in giving our customers the very best prices available on the day you request a quote. If you've got scrap cables lying around, bring them to us today.