later post  |  index  |  earlier post
What can I sell to a scrap metal yard?
  Friday, 28 April 2023
If you are a tradesperson of any kind, or work in construction or engineering, chances are that you will have large amounts of scrap metal lying around. This could be old equipment, disused parts, dead batteries, cable or components.
You could turn this scrap into good money quite easily by selling to a local scrap metal yard like ASM Metal Recycling. In this article we'll see what types of metal can be sold as scrap by tradespeople and what tips we have for maximising the price you'll get.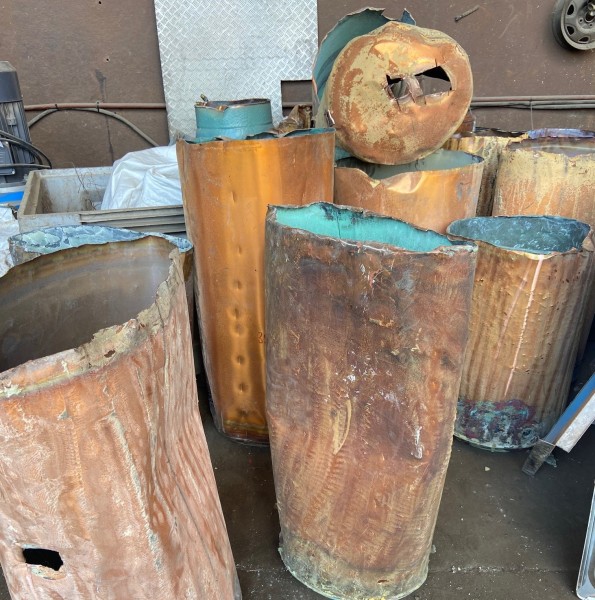 Make a few coppers from your copper
Most metals will fetch some kind of price, but there are more valuable metals than others. Non-ferrous metals – those that are not magnetic – are generally worth more than ferrous metals like stainless steel or wrought iron. That is because ferrous metals corrode more easily due to their high carbon content.
Non-ferrous metals include copper and aluminium, lead, zinc, brass and tin.
Below are some of the types of metal products that specific trades may generate that could be sold as scrap:
Plumbing – copper pipes and fittings, valves, water supply systems, heat exchangers, water heaters, water meters
Garages – car batteries, engines, used car parts, tools
Electricians – cables, heating/cooling systems, wire, circuit boxes, transformers, lead acid batteries, ducting, HVAC parts, household appliances
Metal merchants – shears, balers, shredders
Top tips for top prices
To get good money for your scrap metal it is advisable you plan ahead. Sort it as you generate it. Turning up with a skip full of unsorted metals is not going to be helpful at a scrap metal yard. They may reduce the price you'll get for the time it takes to sort it themselves.
Know what you have, classify it and deliver it separately to the buyer. The less work they have to do, the better price you will get for your scrap metal.
Don't wait too long before selling it – especially ferrous metals. If this rusts it will become worthless.
Ask if your scrap metal needs to be cleaned – some grades of metal, like stainless steel and aluminium, will do and you will get a higher price.
Take pictures of the types of metal you have and send them to your buyer.
Give an estimate of its weight or quantity.
How ASM can help you sell your scrap metal
We can help take that unwanted but valuable metal off your hands and get a competitive industry price. Three of our recycling depots (Aylesbury, Kings Langley and Totternhoe) purchase ferrous metals, including scrap cars, light iron, heavy scrap and cast iron.
Our Westpoint recycling unit in Aylesbury also purchases non-ferrous metals, including all the non-ferrous materials discussed in this article.
We use the latest digital scales to accurately weigh your metal and give the best valuation based on up-to-the-minute industry prices.
For large amounts of scrap metal, we offer a collection service. We'll send a team of expert professionals to pick up and transport the metals to our approved depot, where we use the latest processing technology to dispose of and recycle your materials.
Payment is quick and direct to your bank account. Find out more about selling scrap metal and get a valuation today.
later post  |  index  |  earlier post
---